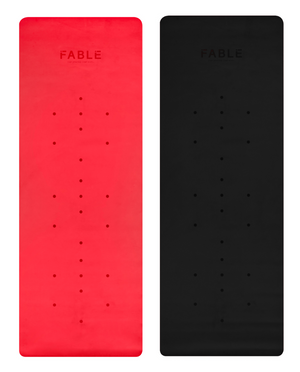 Home Studio and Travel Commuter Mat Yoga Bundle
Sale price Price $152.00 Regular price $171.00 Unit price / per
One for home, one for travel. We've got your yoga equipment covered with our complete mat bundle. Shop the Fable 4mm Pro Mat and 2mm Commuter Mat complete yoga set and save. 
In this bundle you'll receive the essential Black 4mm Pro Mat and Red 2mm Commuter Mat.
4MM PRO MAT SPECIFICATION
185cm x 68cm x 4mm
longer and wider than a standard size mat
pro-performance, non-slip technology
crafted with natural tree rubber and PU
biodegradable and PVC-free
created and tested by yogis for yogis
Ethically manufactured with premium materials
3.2kg
It's important to us that you can chill out in child's pose confident our mats don't contain any nasties which is why you won't find PVC, toxic inks or glues in our products.
When you purchase this mat, we'll plant a tree into one of the incredible replanting projects we're supporting with our friends at Tree-Nation. You'll receive an email after purchase with more details about your tree. 
Your yoga mat is an investment in your practice. Check out our mat care guide to learn how to care for your new Fable mat. 
2MM PRO MAT SPECIFICATION
The Fable 2MM commuter travel yoga mat has been crafted using biodegradable natural tree rubber and PU for ultimate stability and cushion.

Lighter and thinner than our standard studio mat, the commuter mat is designed to lay over your studio mat for extra layer of hygiene protection or to use alone. Lighter in weight, same incredible grippy surface to support you through your practice.
MAT SPECIFICATION
185cm x 68cm x 2mm
longer and wider than a standard size mat
pro-performance, non-slip technology
crafted with natural tree rubber and PU
biodegradable and PVC-free
created and tested by yogis for yogis
1.8kg