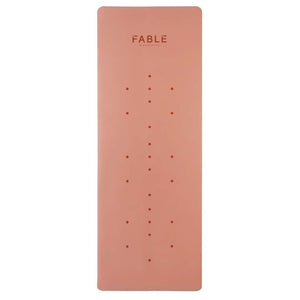 FABLE 4MM PRO GRIP STUDIO YOGA MAT - BLUSH PINK
Sale price Price $91.00 Regular price Unit price / per
This item will be restocked in September. Sign up to our mailing list to be notified when back in stock. 
The Fable 4MM blush pink yoga mat has been crafted using biodegradable natural tree rubber and PU for ultimate stability and cushion. Wider and longer than standard size yoga mats, the upper layer is non-slip, offering the grippiest of grips even when the sweat is pouring and you're begging for savasana.
Step up your yoga mat game, and your yoga practice with Fable.
The original blush pink yoga mat from Fable has been one of best-selling colours since it's 2020 launch. 
MAT SPECIFICATION
185cm x 68cm x 4mm
longer and wider than a standard size mat
pro-performance, non-slip technology
crafted with natural tree rubber and PU
biodegradable and PVC-free
created and tested by yogis for yogis
Ethically manufactured with premium materials
3.2kg
It's important to us that you can chill out in child's pose confident our mats don't contain any nasties which is why you won't find PVC, toxic inks or glues in our products.
When you purchase this mat, we'll plant a tree into one of the incredible replanting projects we're supporting with our friends at Tree-Nation. You'll receive an email after purchase with more details about your tree. 
Your yoga mat is an investment in your practice. Check out our mat care guide to learn how to care for your new Fable mat.